When passion and a career meet
"I love the fact that I can use my passion, knowledge and education to contribute to the sustainable management of our country's natural wealth".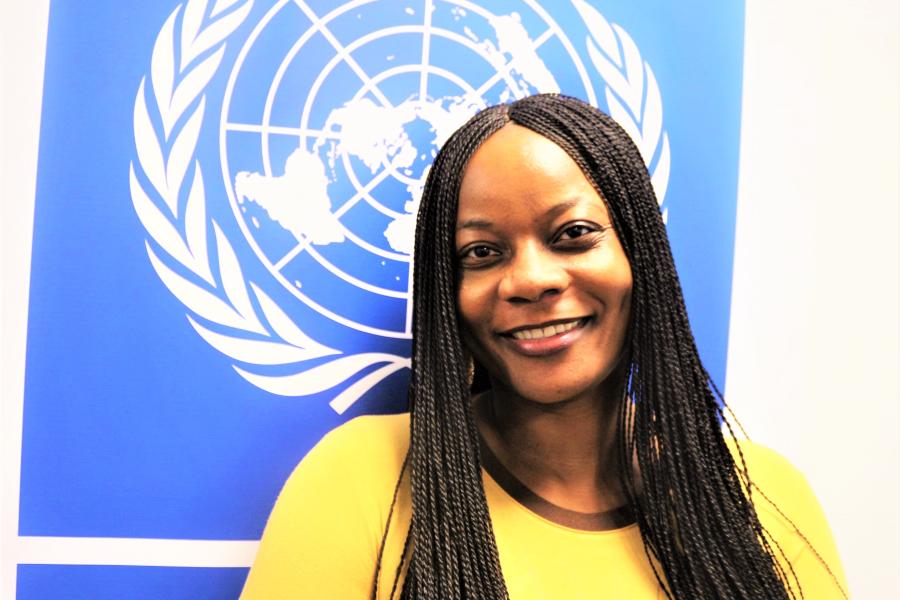 Photo | UNDP
Careers occupy most of our waking lives, and despite the hardships and detriments we encounter, they prove to be full of heart and passion. In this article we meet a woman with a phenomenal aura and a narrative behind the journey and  success of her career. Today Martha Naanda is the Program Specialist for the United Nations Development Programme (UNDP).  Martha was born and raised by parents who were educators in a small rural village called  Oneshoko. She acquired her Bachelor of Science degree from the University of Namibia, and  thereafter sealed her Master of Sciences (MSc) in Development Planning with specialization in Environment and Sustainable Development at the University College of London (UCL), UK.
In 1996, she was a recipient of the EARTHWATCH Rhodes Trust Award which proved to be the stepping stone to her first job as a Student Research Assistant on the Nile Crocodile Research Expedition at Kwa-Zulu Natal, in South Africa. Early in her career, she managed to accrue notable skills which include planning, documenting, writing reports and field work assessments /observations.
Careers tend to change when we make new, congruent, and committed choices. For Martha, her best career choice was combining her natural passion with her academics.
"I naturally love nature, and while I was doing my first degree, I realized that I can make a huge difference by combining my studies with making a difference in the lives of the Namibian people" she said. 
With a passion that stems from her lineage, she proudly asserts that she has worked in the industry since the early 2000s. Her  job entails inventing projects that can provide solutions to deal with the environment, social and economic challenges facing the world, the continent and Namibia.
"I love the fact that I can use my passion, knowledge and education to contribute to the sustainable management of our country's natural wealth" she stated.
Martha's work contributes to the economic growth of the country, and positively positions the country globally; provides livelihoods for the local communities and enhances the knowledge toolbox for the environmental sector.
Although her milestones depict the epitome of a hardworking and determined woman, careers are certainly not linear, and this is portrayed through the adversities and setbacks that she has encountered. Martha highlights that at one point, her work went through a transformation in the management process, and the proposed structure did not include the skill set that she had to offer. Consequently, she had to recapitulate her mental focus which transpired to be a silver lining, as she gained more than what she could have ever anticipated. When Martha encounters challenges, she views them as learning curves for the future, and not hurdles for distraction.
Martha finds that her strengths are capped into listening, examining varied views and remaining steadfast in getting the job done while enjoying the journey towards the accomplishment. A week in the Program Specialist's work life begins with appreciating her wins, reviewing what she is yet to accomplish, and then drafting priorities for the week. Thereafter she consults with her "MySelfAnalytics". Most of her days are spent providing advice to various managers, reviewing documents for quality assurances, reading strategies, frameworks and networking in meetings.
Having an intuitive and creative head on your shoulders, the capability to theorize using different perspectives and possessing a passion for nature, people and the economy makes you suitable for this career. One must be able to weigh short-medium-to long term benefits without losing the focus on realizing quick results in the economic, environmental and social spheres. Additionally, pursue studies in natural sciences, do field observations, interact with nature and acquire the basics. Martha advises that it is beneficial to acquire a post graduate qualification and supplementary certifications because this field of study is continuously evolving.
Martha is a certified bookworm and one of her favorite books is, "A Life God Rewards" by Bruce Wilkinson. Being rooted firmly in her spirituality, Martha too has a mantra she lives by.
"My mantra is actually my given or middle name, 'Talamondjila', which means look on the road ahead at all stages of my life" she said.
While most may think career, goals are simply defined by the position or job they have, Martha begs to differ and asserts that she lives in the moment.
"One of my mentors recently shared that when he retires, he would like to retire 'his brains'. I thought that I wanted to retire and contribute to the academic world, but I am now leaning towards focusing on relaxing my brains" she declared.
Her message to the Namibian boy and girl child, is to exert love to oneself, their country and neighbors. She continues to assert that they should explore and optimize  on every opportunity accorded to them without taking anything for granted, because the culture of 'entitlement' is not the way to go.
This article exhibits that whether one starts as an intern or runs a successful company, we need  to have determination, passion and grit to pursue growth into our desired career paths.
UN entities involved in this initiative