My Chevening journey: A story of patience and determination
"I vividly remember the exact moment that I received my confirmation email from the Chevening Secretariat..."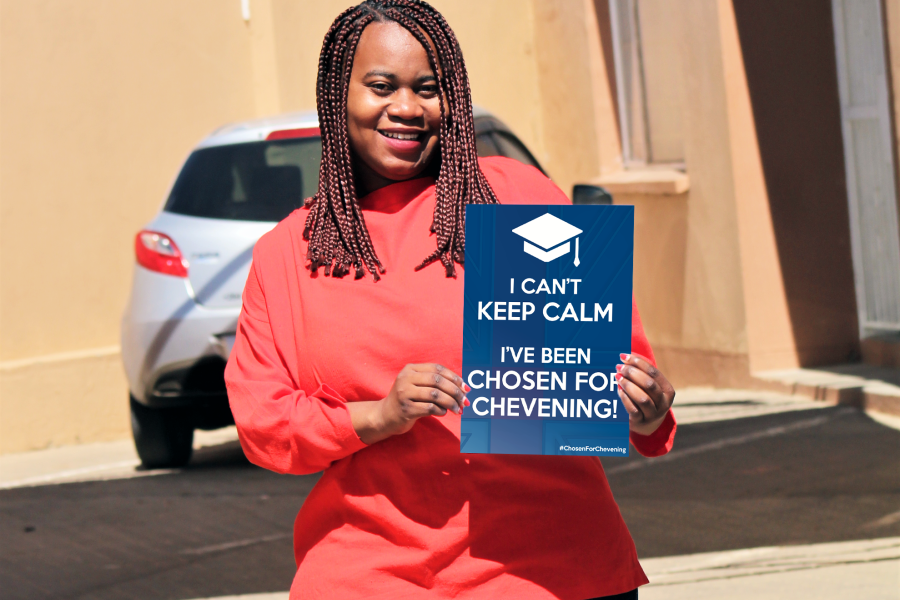 Pursuing a Master's Degree seems like a far fetched accomplishment, but Margretha Kampulu beat the odds when her determination allowed her to take a leap of faith and reach out to the opportunity when it presented itself.
"I vividly remember the exact moment that I received my confirmation email from the Chevening Secretariat announcing that I have been awarded a fully sponsored Chevening Scholarship. It felt so surreal" reminisced Margretha.
Her desire to accomplish her Postgraduate degree emanates from when she completed her Bachelors (Honours) in Media, Communications and English Studies from the University of Namibia in 2017.  She started working at the United Nations Development Programme (UNDP Namibia) as a Communications Intern and eventually became the Communications Associate for three years. Her job, however, did not hinder her dreams to further her studies.
The Chevening Scholarship is a prestigious United Kingdom's Government global scholarship programme, funded by the Foreign and Commonwealth Office (FCO) and partner organisations.
"My application journey was a roller coaster while at the same time a great opportunity for retrospection and reflection," she said.
In spite of the awareness of her capabilities, Margretha expunged the possibility of any fault lines and habitually attended the Chevening Scholarship marketing events organised by the British High Commission, where she used her intuitve to gain more insight.
"The marketing events proved to be helpful as they were a good opportunity to clarify queries as well as to acquire tips on how to prepare for it" she asserted.
Selecting the best possible programme is a key decision to make, and can often be a challenging one, but Margretha learned that she could specialise in a discipline that combines two of her passions: Communications and Development. This program is called Communication for Development (C4D) and it encompasses different types of communication that need to take place in societies if sustainable democratic development is to occur.
Margretha taps  into her hat of wisdom and advises other applicants to utilize these five tips and tricks when applying for scholarships:
Use the application period wisely
Utilize your time wisely, attend the marketing events, ask questions and start preparing your application (essays) before the official start of the application process. Take it one essay at a time and review your answers. Take note that the application period for 2020 is shorter than usual, so make the most of it. The applications begin on 03 September 2020.
Research your course and university extensively
Understand and demonstrate how your chosen course of studies tie in with your career plan. Research on specific modules within the course, the relevance of the modules and how that experience will help you in your future. It is also integral to research on the universities that you would want to go to. Evaluate the University rankings, reputation, student support mechanisms etc.
Be deliberate and reflect on what you really want to get out of this
Ensure that you view the eligibility criteria and make sure that you meet it. Take time to reflect on your aspirations and goals. Do not rush to write the essays before you have thought of a concise plan.
Get in touch with old or current scholars for support
Former scholars can be of great help with reviewing your application. They can give you valuable tips and information to support you with your application. Visit the Chevening Namibia alumni Facebook page to connect with former scholars.
Apply for your university courses as soon as possible
Apply to a minimum of three universities in the UK and ensure that you apply for your chosen universities as soon as the application stages open. This would enable you to list the universities that you have applied to in the Chevening application, which is a requirement.
Margretha is anticipating to accrue valuable skills in International Development and Global Communications and is looking forward to building great networks within and around the Chevening community.
"I am expecting to experience the diverse culture in London, the UK and Europe as I am planning to navigate around and employ my new skills in an International Organisation in the UK in the form of an internship" she noted.
Although the possibility of securing a scholarship may seem unimaginable and impossible at first, researching your options, being adamant and determined proves to be worth it.
This is the inspiring journey of Margretha Kampulu becoming a Chevening Scholarship awardee. It is her milestone, but it can be yours too.
UN entities involved in this initiative