'DAFISCH' – MAKING THE OLD ANEW
Since the launch of DaFisch Designs in 2020, Shariefa Fisch is one of the pioneers of sustainable eco-friendly wardrobe alternatives in Namibia.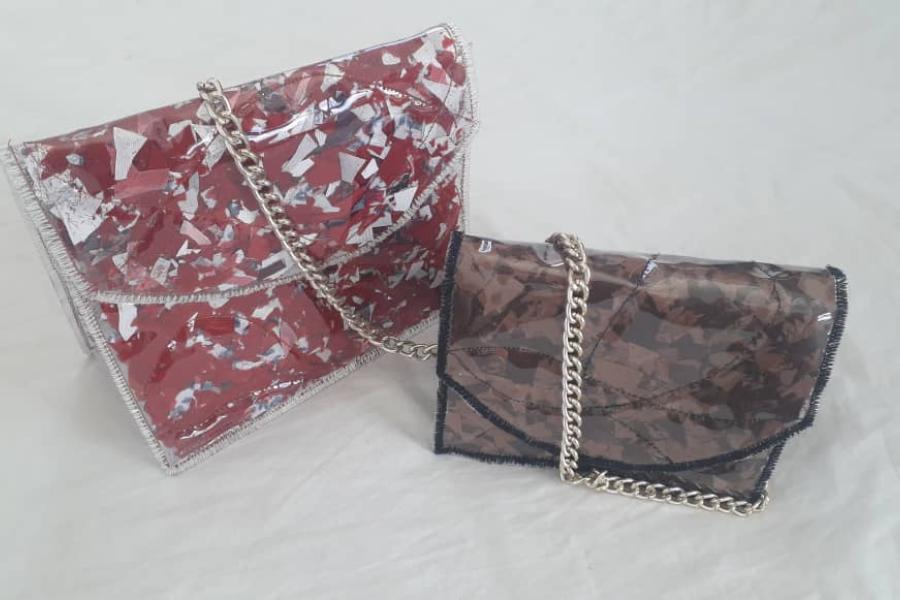 Photo | ©Shariefa Fisch
Keeping up with the times is a requirement for most industries, but for fashion designers it is crucial. Shariefa Fisch, owner of DaFisch Designs emphasises upcycling – not only of materials but also practices. Sustainability is more than what is popular now – it is at the core of Fisch's personal and professional ethos.
While her brand is still growing, she is committed to reducing its carbon footprint to ensure 100% sustainability.  Her clothing and accessory line – which includes ready-to-wear outfits, scrunchies and bonnets – incorporates the use of scrap material. 
"If you can use something again, why would you throw it away?"
Fisch, 33, sources materials from local and international manufacturers or retailers for unwanted surplus materials. She purchases the materials at "very low prices", but often obtains them free of charge.
Fisch became a full-time designer after she was laid off from work due to the COVID-19 pandemic and used some of her savings to launch DaFisch Designs. 
"Since the pandemic started, I have been reading up a lot [on] how to use some of my talents, [and] then make [my products] more ethically. Basically, recycling old things and how I can make that into a daily thing and profitable business for myself."
She explains that man-made materials take much longer to decompose in comparison to fabrics produced with natural materials like cotton or linen that are biodegradable. According to the UN initiative against plastic pollution, "Play it Out", it takes 100 years for plastic to degrade in the environment.
Beyond sustainability within the design industry, Fisch's ethics echo those of her private life.
"We stay on a plot, we don't use electricity, we have solar power and we get our water from a borehole. We have been trying to plant fruits and veggies. The whole idea of our family and of our living space is to become more sustainable. I wanted to create my brand to reflect that."
Before releasing collections to the public, Shariefa explains that she was "cutting up my clothes and making new clothes" as a child; an interest sparked by home economics classes at school. She has made clothes for family members, matric farewells, her children and she also made her own wedding dress.
"Because of the way I grew up, being a fashion designer was not really considered a career path because it was more of a hobby. I always wanted to do it but because you have that imprinted on you, that 'I'm not going to get far with it.' I never really took it seriously."
Despite the fact that the fashion industry is primarily dominated by men, she takes pride in following the footsteps of other women who are trailblazers in the industry – whether these are in formal or informal settings.  
"As a woman, I think you are not taken very seriously, especially when it comes to the entrepreneurial part of it. I think in Namibia there is very much a sense [that] a woman needs to be at home doing 'house things' and 'wife things. Women need to take hands and walk together to break through that stereotype."
Women from all walks of life have resonated with Fisch's design aesthetic and principles. In particular, working women love her ready-to-wear designs because they are made for the modern-day woman who has a career and maintains her home. As a working mom herself, Shariefa's desire to work in a field that she's passionate about has taught her that achieving work-life balance requires care and conviction.  
"It can be overwhelming sometimes. But I think the key is planning. Obviously, you cannot control everything, but I think the important thing is to stay calm and know that Rome wasn't built in a day".
She is excitedly working on a new line of items including jumpers, dresses and a range of clutch handbags that she intends to make from PVC (otherwise known as plastic). Finally, the ethical fashion designer looks forward to expanding her business with the ultimate aim of raising awareness for sustainable fashion that promotes environment and social responsibility in the fashion industry.
In support of the 'Buy Local, Grow Namibia' initiative, she suggests that government or any other organization advertising tenders and contracts encourage and facilitate a bigger slice in the marketplace for smaller businesses like hers, therefore promoting the growth of local businesses.
Fisch's approach to fashion design is in harmony with the United Nations Development Goals.
Check out Shariefa on Instagram: @dafischdesigns
"This feature is part of a UN Namibia series that highlights local goods or service providers in support of the Buy Local Grow Namibia campaign and who we believe are actively working toward the sustainable development goals (SDGs). The Buy Local, Grow Namibia campaign supports growth in the production and consumption of Namibian goods and services"
UN entities involved in this initiative
UNIC
United Nations Information Centre
Goals we are supporting through this initiative