"We must act, resolutely," Namibia on COVID19
There has been an increase in the number of confirmed COVID-19 cases in Namibia to eight, the President announced at a press conference on Friday.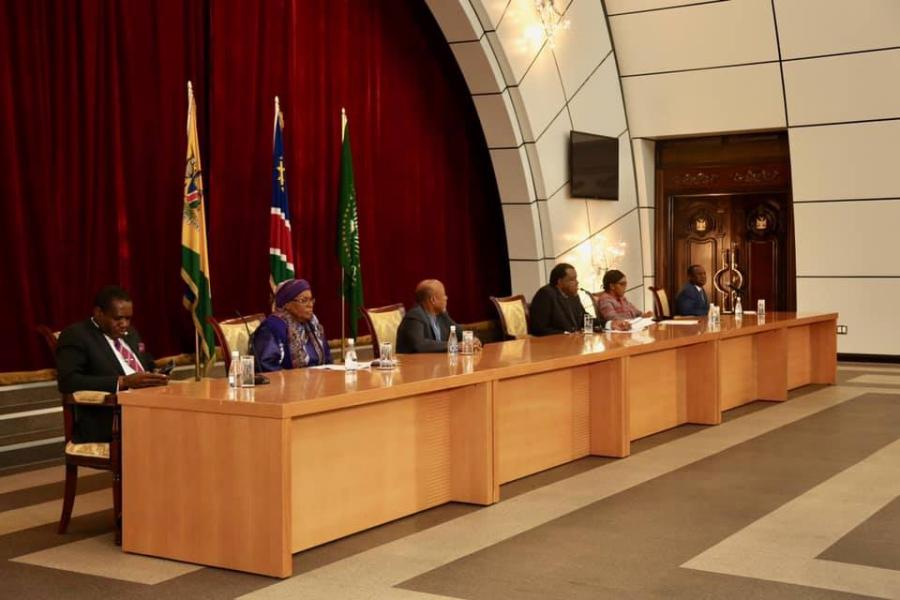 Photo | Presidency of Namibia
The President of Namibia, H.E Dr. Hage Geingob announced the decisive action the Government is taking as a national response to COVID-19.The briefing was held to further outline the measures announced on 24 March, calling on a partial lockdown of the Khomas and Erongo Regions, including Okahandja and Rehoboth.
The lockdown will come into force on Friday, 27 March 2020 for a period of 21 days ending at midnight on 16 April 2020.  The lockdown is a necessary measure undertaken by the Government to protect Namibians from this devastating public health threat. "We must act, and we must act, resolutely. As I said before, the health of the Namibian people is our highest priority," Geingob said.
The Ministers present supported the President in providing details on the guidelines, regulations and definitions of essential and critical services during the lockdown period and how these will affect the day to day activities of Namibians.
"These bold and aggressive measures are going to challenge us as a nation, but we believe it is for the greater good of all of us. The cost of not acting on time is far greater than the inconveniences we may face today," said Geingob. The lockdown of the Khomas and Erongo Region will be followed by the whole country later on, the President went on to say.
During his address, the President spoke about Namibia's continued public health response to provide screening, testing, contact tracing, quarantine, isolation and medical management. The President announced the action taken by the Government of Namibia to reduce the staff footprint in Government offices, Ministries and Agencies, permitting employees to work from home.  Geingob appealed  to those working from home to fulfill their duries  as expected by their employers, and further appealed to those required to report for duty as essential services to do so.
Geingob said that measures instuted by government would be reviewed regularly, as the country scales up its national response to COVID-19. He called on on the country to demonstrate values of solidarity, unity and empathy. "It is not only about this deadly scourge during this period, it is vitally important that we maintain our sense of community."
The President called on the people of Namibia to be cooperative and understanding, requesting ALL Namibians to stay at home during the envisaged lockdown. He reiterated the importance of staying at home noting that, "we have a chance today, to contain and arrest the further spread of this disease - if we Stay at Home and cooperate  with the efforts of Government."
Visit: http://www.mhss.gov.na/lockdown to learn more about the guidelines and regulations for 21 -Day Lockdown
UN entities involved in this initiative
WHO
World Health Organization
Goals we are supporting through this initiative