UN's policy brief opens discussion on Economic Transformation
Panelists unpacked UN Namibia policy brief: COVID-19:An emerging development challenge, but opportunity for the Sustainable Development Goals (SDGs) in Namibia"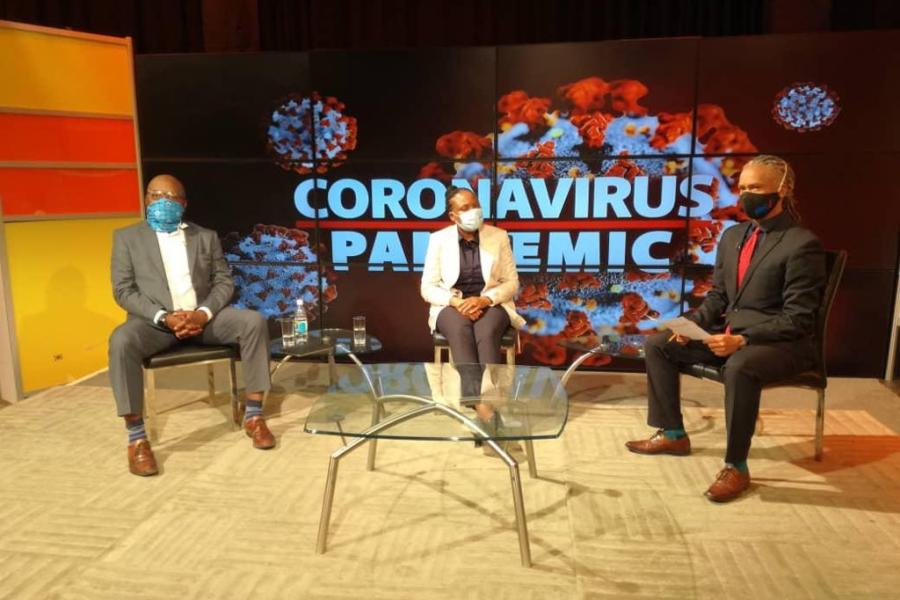 Photo | UN Namibia
A duo of panelists shared their expert opinions during a live discussion on National Television, unpacking the UN's recommendations on Economic Transformation and COVID-19, based on UN Namibia's Policy brief. The experts were Prof. Teresia Kaulihowa, Associate Professor: Economics, Accounting, Economics and Finance, NUST and Mr. T. Shimii Ya Shimii, CEO, Sanlam Investment Management.
In partnership with UN Namibia, the National Broadcasting Corporation (NBC) moderated a dialogue, citing the importance of inputs from academia, the public and private sector stakeholders. Moderated by seasoned journalist, Denver Kisting, the panel sought to underscore the impetus needed to reap the opportunity to achieve the Sustainable Development Goals (SDGs) in Namibia.
Economic transformation pertains to policy strategies that are continuous in nature and are deemed to diversify the economy in a way that the country moves away from low productivity to high productivity sectors.
Due to the unparalleled pandemic, it is difficult to make decisions or design policies constrained by uncertainties. Deliberating further, Prof. Kaulihowa outlined that as the country moves towards NDP 6, its the primetime to advance and design new policies that are geared towards addressing information asymmetries and creating a future economy and employment. This calls for new dimensions and ways of doing things in order to gear the economy towards recovery in a way that is robust, inclusive, resilient and sustainable in addressing the SDG's.
The panelists collectively agreed that the agricultural sector, whether formally or informally is the largest employer of the economy. Namibia receives a vast number of imports and this has been brought to a halt due to the pandemic, compromising the food security of the country.
"We need to have conversations and strengthen the ability to be able to produce and self-sustain basics, including food. Agriculture, whether it's from a sustainable, subsistence or commercial perspective, needs to be scrutinized to see how we can use it to become self sustainable", asserted Mr Shimii Ya Shimii.
Multi-layered problems which are multi dimensional in nature have risen due to the prevailing situation. The Government solely cannot address the multi-dimensional problem that COVID-19 has brought forth.  These are times that heed for partnerships where the private sector, government and all other economic agents need to consolidate and design an optimal policy strategy towards addressing these challenges. Private sector development can serve as an engine of growth; however, this has to be pondered on open-mindedly to ensure that the engine of growth is inclusive and addresses both ends of the market. 
Value addition on mineral resources and identifying sectors that can increase productivity are vital in resuscitating the economy of the country. Additionally, this will diversify the economy and make it resilient to economic and social shocks.
The dialogue session proved to be informative and insightful with public inputs through live telephone calls. The session kick started an important conversation with stakeholders on how to boost Economic Transformation in Namibia.
Ms. Eunice Ajambo, Economist and Development Coordination Officer at UN Namibia, and author of the Policy Brief emphasized,
 "During this Decade of Action for the SDGs, the positive examples for collaborative action and co-creation by all relevant stakeholders in addressing binding constraints towards transformation and the SDGs, is becoming a clear imperative in Namibia. We at the UN applaud efforts, and remain supportive."
UN entities involved in this initiative
Goals we are supporting through this initiative