UN Namibia Newsletter- November 2018, Volume 3 Issue 10
The Ministry of Poverty Eradication and Social Welfare (MPESW) in partnership with the World Food Programme (WFP) launched the Food Bank SCOPE Pilot Project, the first of its kind around the globe, at the Katutura Youth Complex in Windhoek on 21 November 2018.
"We are the first in the whole of Africa and the world. People will come to Namibia to see how we are doing it," said the Minister of Poverty Eradication and Social Welfare, Hon. Bishop Zephania Kameeta at the launch.
SCOPE is a digital, automated registration and entitlement management system which is being implemented to strengthen Namibia's food bank system. Through collecting and recording biometric data, SCOPE will enhance efficiency of beneficiary registration, food distribution and reporting and accountability processes. At the same time, it will contribute to the attainment of Sustainable Development Goal (SDG) 2 'Zero Hunger' which aims to end hunger, achieve food security and improved nutrition and promote sustainable agriculture by 2030.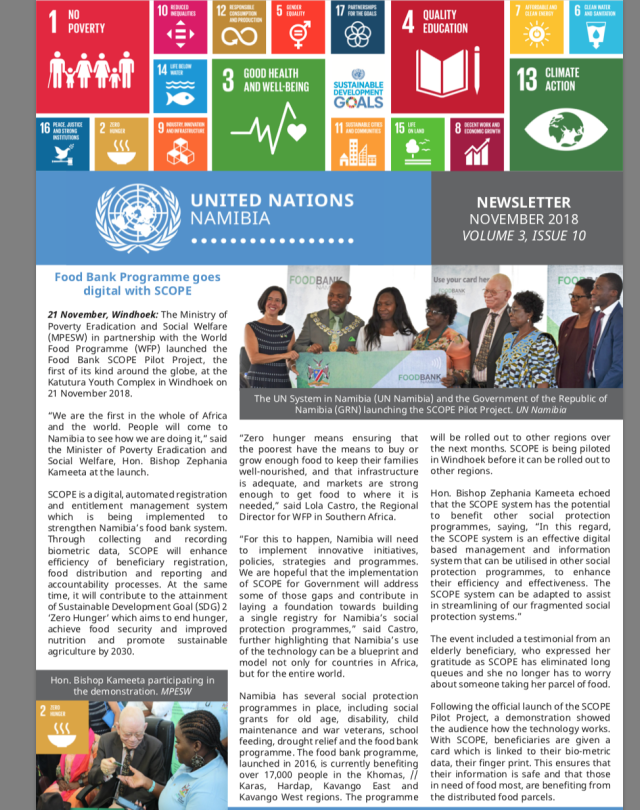 Goals we are supporting through this initiative