Namibia Annual United Nations Country Results Report 2016
The Republic of Namibia continues to enjoy peace, security and political stability. The country's President, Dr. Hage Geingob, who was sworn in on March 2015, has dedicated his presidency to the eradication of poverty and hunger. In his State of the Nation Address delivered on 05 April 2016, President Geingob declared 2016 as a year of implementation for various planning policies and frameworks. These include the Harambee Prosperity Plan (HPP), the Government of the Republic of Namibia (GRN)'s action plan towards prosperity for all Namibians, and the Blue Print on Wealth Redistribution and Poverty Eradication, a policy framework aimed at advancing strategies for eradicating poverty and reducing income inequality in Namibia. These frameworks are in line with Namibia's Vision 2030 and the Sustainable Development Goals (SDGs) particularly SDG 1 on No Poverty and SDG 2 on Zero Hunger.
Namibia has one of the fastest rates of poverty reduction over the past 5 years. Poverty reduced from 28% in 2010/11 to 18% in 2016; while severe poverty has declined from 18% to 11%. Inequality, as measured by the Gini coefficient, has also reduced slightly from 0.59 to 0.57 during the same period. However, no significant job creation was recorded during this period of assessment1.
During the last two quarters of the year 2016, the GRN grappled with a tough economic situation. In September 2016, the Fitch Rating Agency revised Namibia's economic outlook from stable to negative, specifically affirming a significant fall in the country's sovereign credit rating at the investment grade notch of Better Business Bureau (BBB). This was largely attributed to the country's growing budget deficit, which stood at 8% of the Gross Domestic Product (GDP) in the fiscal year 2014/15, which is above the GRN's 5% target. In addition, the country's debt to GDP ratio increased to 38.5%, which exceeds the target of 35%.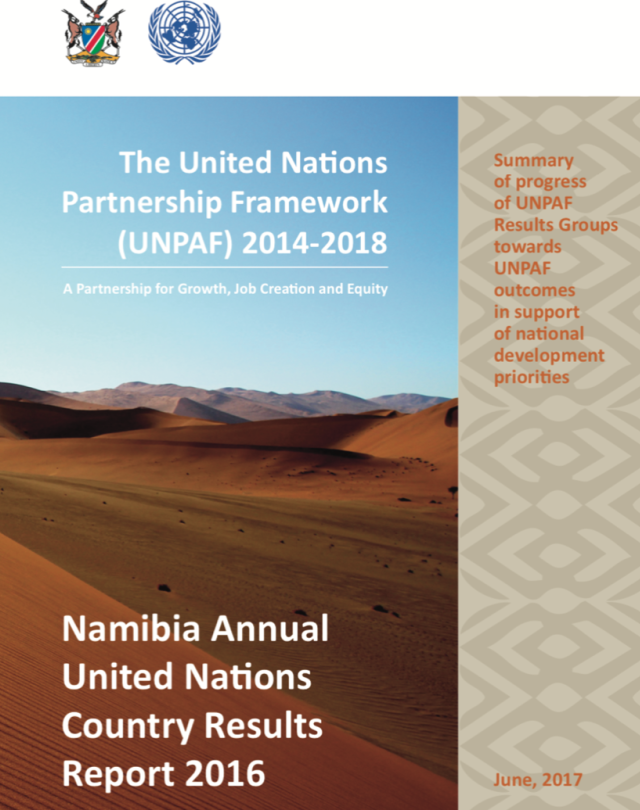 Goals we are supporting through this initiative