UN Namibia Newsletter- October 2018, Volume 3 Issue 9
The United Nations (UN) System in Namibia celebrated the 73rd anniversary of the UN, UN Day, with the local community at an Early Childhood Development (ECD) centre, elderly person's home, hospital, and a local university, under the theme '#UnitedwithUNNamibia'.
UN Day, commemorated annually on 24 October, marks the anniversary of the entry into force in 1945 of the UN Charter. Over the last 73 years, the United Nations has been working to protect human rights for all and ensure peace across the globe, through prevention and humanitarian assistance. Through its specialised agencies, funds and programmes, the UN works to achieve its goals and coordinate efforts for a safer world for future generations. Here in Namibia, the UN also has a long- standing history, having served as a trusted partner dating back to the time of the country's Independence, in its towards sustainable development.
Since then, Namibia has made great strides in line with national and international development agendas in ensuring that no one is left behind. However, challenges still exist. Less than a quarter of Namibian children are enrolled in an ECD programme, there are concerns about violence against, abuse and maltreatment of older persons and in particular older women in Namibia, there is an increasing burden on the health sector of non-communicable diseases and youth employment stands at close to 40%.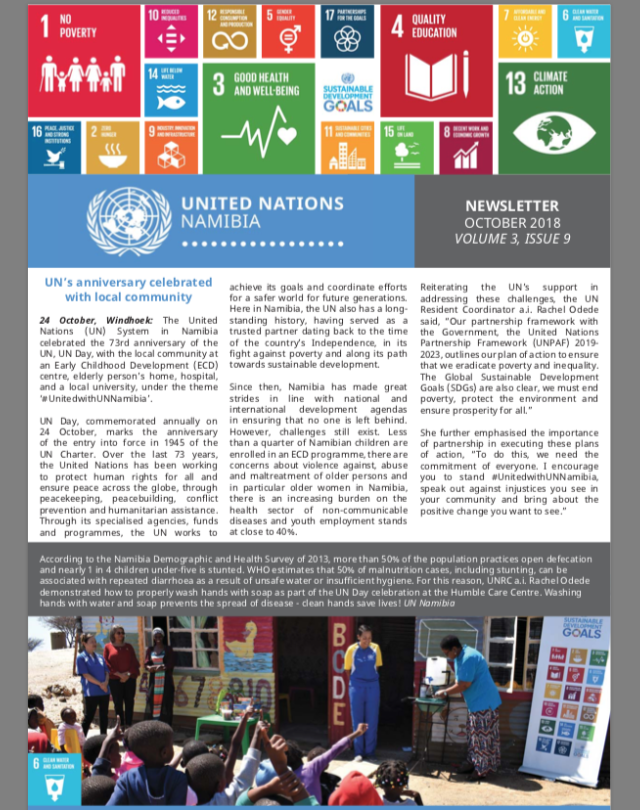 Goals we are supporting through this initiative