Founding Father of Namibia in solidarity with the UN
The UN flag is lowered to half-mast in honour of the passing of Javier Pérez de Cuéllar, former Secretary-General of the United Nations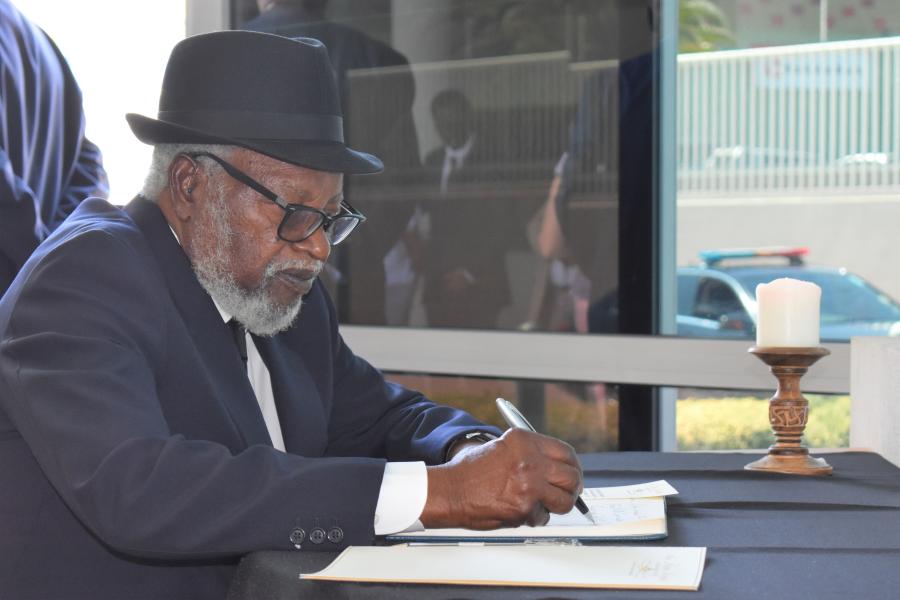 Photo | UN Namibia
A book of Condolences is open at the UN House in Windhoek, affording Namibians the opportunity to write a farewell message dedicated to the memory of the late Pérez.
On Friday, 13 March, the Founding Father of the Republic of Namibia, His Excellency, Dr. Sam Nujoma visited the UN House in Windhoek to pay tribute to the late Secretary General. Javier Pérez de Cuéllar, was instrumental in Namibia's transition to independence.
UN Namibia Country Team members (UNCT) and the UN Resident Coordinator a.i, Rachel Odede received Dr. Nujoma and shared a solemn moment while His Excellency wrote a message in the Condolences Book. The UNCT extended their sincere gratitude to the Founding Father for standing in solidarity with the United Nations.
UN entities involved in this initiative