8,7 million NAD worth of PPE to support frontline personnel
Health care workers are on the frontlines and must be supported.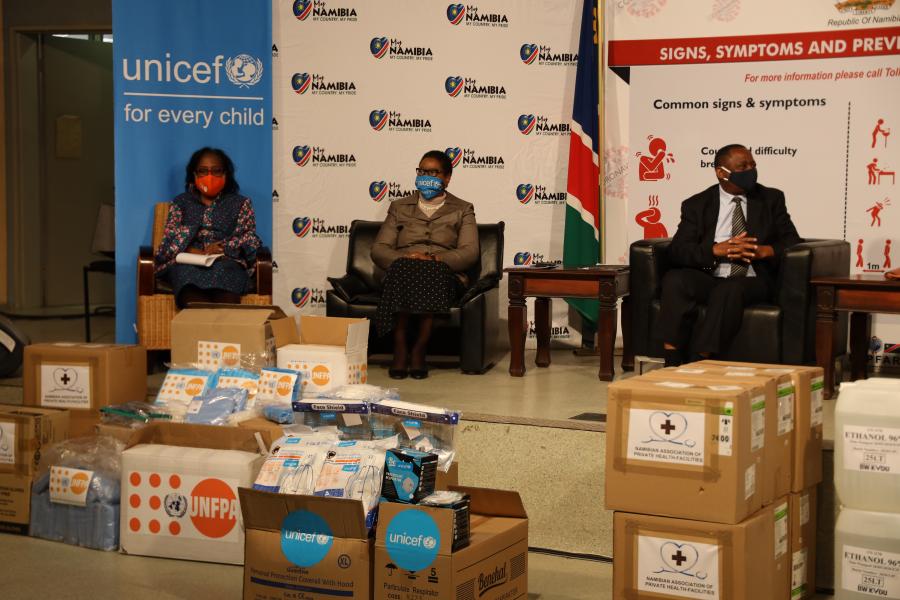 Photo | UNICEF
The UN System in Namibia through sister agencies UNICEF Namibia and UNFPA Namibia handed over a donation of Personal Protective Equipment (PPE) to the total value of 8.7 million NAD to Honourable Dr. Kalumbi Shangula, Minister of Health who received the donation on behalf of the Ministry of Health and Social Services (MoHSS).
The donation is a demonstration of the UN's support to the Government of Namibia's national response to COVID-19 and a direct result of UN agencies 'Delivering Together' to the people of Namibia.
The equipment includes face shields, N95 masks, thermometers, gloves, disposable gowns, head covers, shoe covers, surgical respirators and goggles intended to support frontline health care personnel who are working tirelessly and delivering critical services during this pandemic.
UN Namibia Country Team Representatives, Rachel Odede, UNICEF Representative; and Dennia Gayle, UNFPA Representative; handed over the donation on behalf of the entire UN System in Namibia. The senior UN representatives commended the Government of Namibia for the swift and decisive action taken and expressed the UN Namibia's resolve to continue supporting the land of the brave in the fight against COVID-19. Dr. Shangula expressed gratitude to the partners and the UN Namibia for supporting the national response.
UN Namibia's support to Namibia is a holistic and integrated response to COVID-19 in the country. Through partnership and collaboration, as enshrined in Goal 17 of the Sustainable Development Goals (SDGs), UN agencies alongside partners and other stakeholders are working together to build back a better for the Republic of Namibia.
UN entities involved in this initiative
UNFPA
United Nations Population Fund
UNICEF
United Nations Children's Fund