UNICEF with Ministry of Education, Arts and Culture and Namibia Media Holdings (NMH) to develop learning workbooks amid COVID-19
Giving a child a book is like lighting a torch for their path to greatness.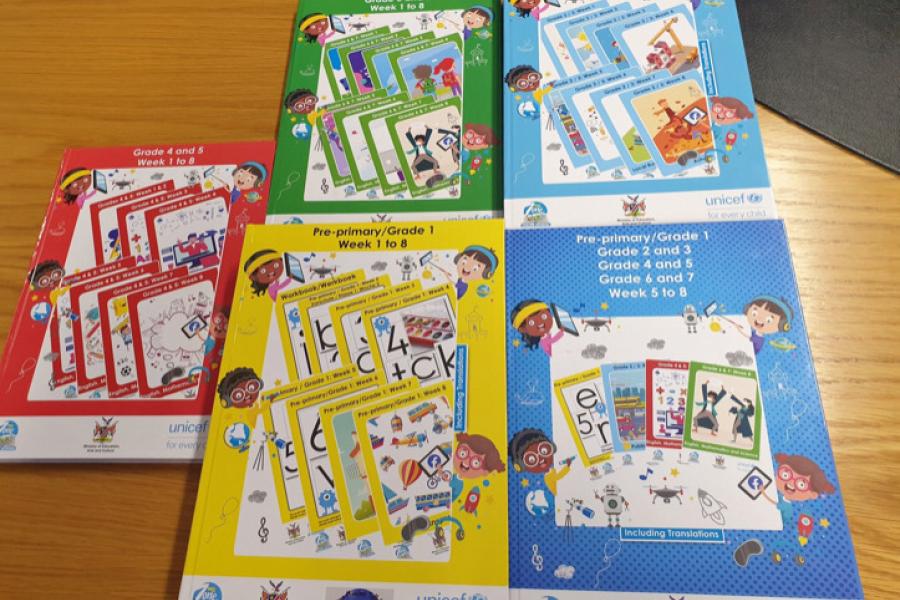 To ensure continued education for all children in Namibia, amid school closures during COVID-19, the Ministry of Education, Arts and Culture - Namibia in partnership with UNICEF and Namibia Media Holdings, developed and disseminated continued learning workbooks for learners from pre-primary to Grade 7, reaching over 600,000 learners.
Continued learning materials to the value of N$3,912,000, was handed over to the Ministry which will assist the Ministry in its endeavour to ensure that all Namibian children, even in the most remote areas, have their right to education realised.
Mr. Albe Botha, CEO of Namibia Media Holdings expressed his appreciation to be part of the initiative and milestone achievement to ensure all children have the opportunity to learn from home, including children from poor and rural communities.
Ms. Rachel Odede, UNICEF Representative, applauded the Ministry's education response to COVID-19 to ensure continued learning and the safe and systematic return of learners to school.
Ms. Odede further expressed her appreciation to the Minister of Education, Arts and Culture and NMH for the partnership with UNICEF to ensure that no child is deprived of access to education because of her or his socio-economic background.
Hon. Minister Anna Nghipondoka recognised NMH and UNICEF as Friends of Education for their continued support to ensure equitable, inclusive, quality education for all Namibian children and shared vision to leave no child behind.
The Minister further acknowledged the efforts from teachers who supported the development of the learning materials and parents who are supporting their children during this challenging time.
The workbooks developed will support learners and keep them learning in the following subjects: Afrikaans, English, Mathematics, Science, Arts, Music.
UN entities involved in this initiative
UNICEF
United Nations Children's Fund