FAO Hands over greenhouse hydroponic fodder structures to Hardap and //Kharas regions
Hardap and //Kharas regions recieve greenhouse hydroponic fodder structures.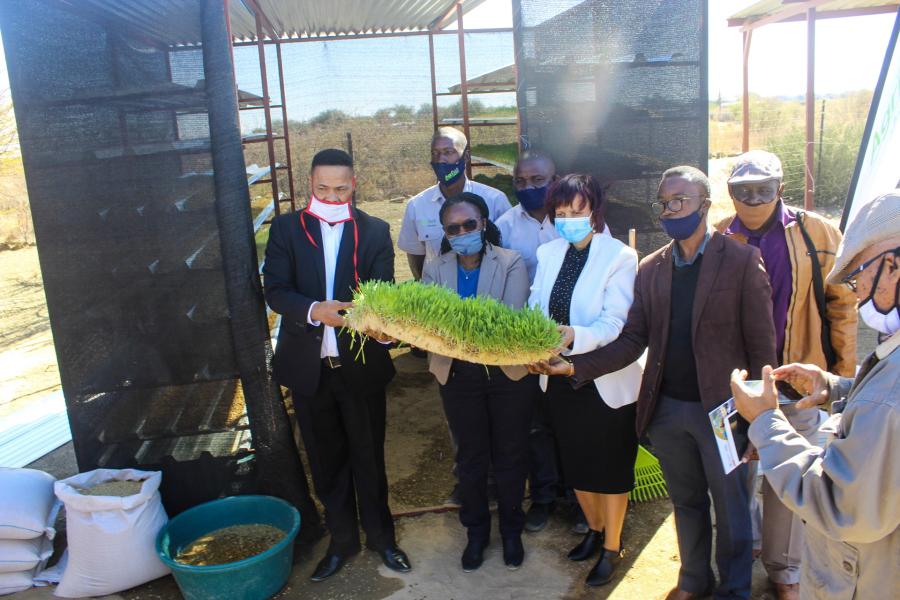 Farmers from the drought hit southern regions of Hardap and //Kharas recently received greenhouse hydroponic fodder production structures and veterinary supplies from the Food and Agriculture Organisation of the United Nations (FAO).
The structures and veterinary items were availed as part of the drought relief support efforts initiated through the United Nations (UN) Central Emergency Relief Fund (CERF) funded project called "Emergency Livelihood Support to Drought-affected Communities in Namibia", which commenced in February of this year.
Speaking at the handover ceremony, Ms. Farayi Zimudzi, FAO Namibia Representative, highlighted the need for innovative agricultural practices such as hydroponics to counter challenges caused by the negative climate change effects across the world.
"The frequent occurrence of natural disasters such as droughts across many parts of the world, including Namibia, due to climate change has necessitated the use of innovative techniques to counter these adverse effects," she said.
Ms. Zimudzi went on to explain that the drought assistance project seeks to provide support to livestock-based livelihoods of drought-affected agro-pastoral communities through the provision of supplementary feeding by setting up hydroponic fodder production systems and provision of veterinary vaccines and medicine in seven targeted regions of the country. Despite delays in the implementation of the project due to the ongoing COVID-19 global pandemic she said, FAO is confident that the critical assistance undertaken by the project will soon reach farmers.
The FAO Namibia Representative further encouraged beneficiary farmers to make full use of the availed structures in order for their livestock to benefit from them for years to come and thereafter praised the collaborative efforts between FAO, the Namibian Government and partner agencies for working hand-in-hand to promote food security and eradicate poverty.  
"Together with our partners and stakeholders, we remain committed to continue to work together in the attainment of a better life for all!"
Meanwhile during her opening remarks //Kharas Region Governor Ms. Aletha Frederick thanked FAO and its implementing partners for coming to the rescue of farmers in both regions.
"It is my firm belief that the livelihoods of farmers in the south will improve immensely because of this project," she said.
Also speaking at the ceremony, Hardap Region Governor Salomon April described the CERF funded project as a hallmark of the joint efforts between government and its partner agencies such as FAO.
"This is a commendable project indeed, and I hope that [beneficiary] farmers will take ownership of it and ensure its sustainability in the long-run," he said.
One of the local chiefs, Deputy Kaptein Stephanus Goliath of the !Hai-Khana community  in //Kharas region could not contain his joy when asked about how he felt about the project. "Our people have been crying to us as their leaders to get such interventions in order to save their few remaining livestock, this project comes at a perfect time and indeed it has potential to help our people very much," he said. Kaptein Goliath went on to call on for the swift implementation of the project. "We need this implemented as soon as possible so our people can have some reprieve," he concluded.
The handover ceremony, which took place at Gellap-Ost Agricultural Research Station, situated a few kilometres outside of Keetmanshoop, saw FAO availing to each region 11 greenhouse fodder production structures, 165 bags of 50 Kg barley seeds, cooler boxes, vaccines, syringes and vitamin supplements for both cattle and small stock. Additionally, 18 Agricultural Extension Officers from the Ministry of Agriculture, Water and Land Reform (MAWLR) also received training on the hydroponic structures from technical experts from the Namibia National Farmers Union (NNFU), which is an implementing partner on this project. The CERF funded project will end in October of this year.
UN entities involved in this initiative
FAO
Food and Agriculture Organization of the United Nations
Goals we are supporting through this initiative