Induction of the National Disability Forum
In support of the SDGs, Namibia has a conducive legislative and policy environment, addressing the needs of vulnerable communities and persons with disabilities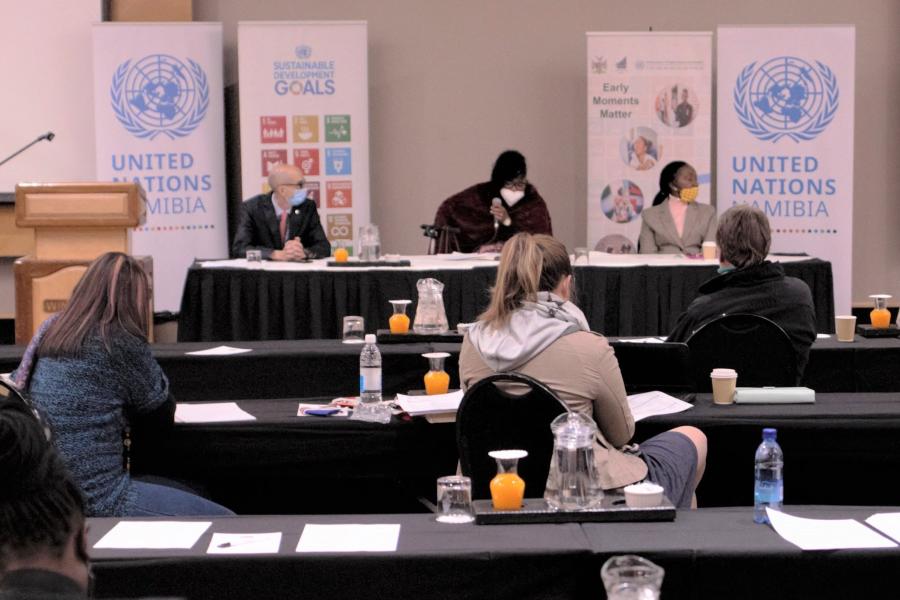 A three-day National Disability Forum cored on Strengthening Integrated Systems to Promote Access to Services for Persons with Disabilities in Namibia was held at Windhoek Country Club Resort. The deliberations occurred from 07-09 July 2020.
The National Disability Forum (NDF) aims to unify a cross-section of stakeholders with an interest in, or responsibility for disability, to promote and support government interventions on the implementing of policies, strategies and programmes to mainstream disability matters in Namibia. The project has a time frame from December 2019 to March 2021. It was implemented by the Ministry of Gender Equality, Poverty Eradication and Social Welfare (MPESW), specifically Disability Affairs, Namibia Statistics Agency (NSA), Ministry of Education Arts and Culture (MEAC) in collaboration with United Nations Development Programme (UNDP), United Nations Population Fund (UNFPA)  and United Nations Children's Fund (UNICEF).
The objectives of the meeting were:
To orientate members on their roles and responsibilities of the National Disability Forum  as per the Terms of Reference.
To orientate members on necessary Conventions, Project Documents, Policies and Strategies that per pertains to disability.
Orientate members of the Disability  mainstreaming plan
Orientate committee members on the role of Government Service Providers, and Organizations of Persons with Disabilities (OPDS) through site visits.
Esther Lusepani, Executive Director (ED) of the MPESW welcomed the participants and wished them fruitful deliberations.
"I am confident that, this platform will serve as a vehicle for disability mainstreaming in different sectors" she said.
Also addressing the forum was Hon. Doreen Sioka, the Minister of the MPESW and member of the National Assembly of Namibia. She asserted that the disability forum is a multi-sectorial issue and the exercise of rights by persons with disabilities impacted by issues of intersectionality.
"The forum is expected to contribute to strengthening coordination and ensuring the full and equal enjoyment of all human rights and fundamental freedoms by all persons with disabilities, with a focus on women and girls and children and young people with disabilities, and to promote respect for their inherent dignity" she stated.
The forum will convene quarterly and will contribute to strengthening coordination and ensuring the full and equal enjoyment of all human rights' fundamental freedoms for persons with disabilities, with a focus on children and young people.
UN entities involved in this initiative
UNDP
United Nations Development Programme
UNFPA
United Nations Population Fund
UNICEF
United Nations Children's Fund
Goals we are supporting through this initiative