An internship experience that interlocked with a passion
"I feel productivity doesn't happen by accident. Accomplishing all the things I need and want to do requires forethought and planning."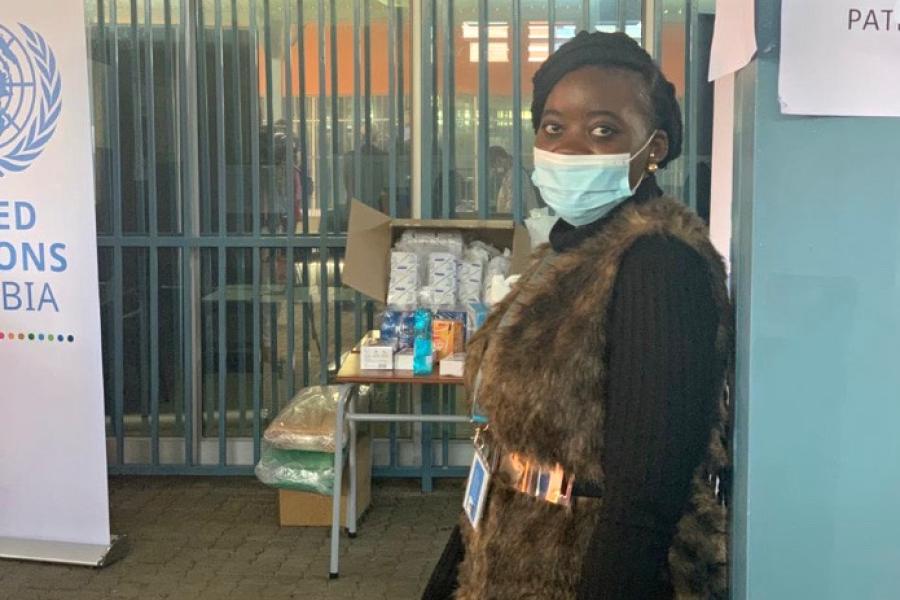 Tertiary education serves to propel a graduate into a profession by awarding a qualification  which demonstrates an academic proficiency in practical and theoretical examples of ways that a job should be performed, but an internship can make these abstract theories and examples concrete through the work setting that a job encompasses.   
In this article we meet an intern who started her  journey with a click of the send button of an email to UNIC. Magrietha Shivute, the last born to her parents studied at the University of Namibia (UNAM), where she capped her Honours degree in Humanities and Social Sciences.
"I had the option to have two majors which were English Studies and Geography and Environmental studies. Many would be confused about this but for me it made perfect sense" she said.  
With an aspiration for global issues, Magrietha found it befitting to intern at the United Nations because her beliefs aligned with the aims of it. She consumes a passion for literature that stems from early in her childhood, where she has always been an intuitive bookworm who partook in reading and spelling competitions.
In today's hyper competitive job market, the scarcity of jobs and internships are fueling a demotivated generation, but this didn't deter Magrietha's persistent spirit to get the opportunity.
"I was very optimistic about interning at the UN, so I took a leap of faith and drafted a well polished resume, cover letter and all the necessary documents" she declared.
Many reckon that the ability to learn is a matter of intelligence but Magrietha begs to differ and states that through practice and dedicated strategies, we can all develop expertise fast and more effectively. During her tenure she learned to believe in herself while striving for what she wants to achieve.
"There's something about being around people who have a shared vision which rubbed off me immensely" she declared.
Magrietha adopted new skills and the  internship allowed her to build on skills that are useful in the industry which capitalized on her work.
"Our Monday's were hardly 'blue Mondays' because we'd always find something to ponder on and converse about. Although the environment was fun, we always knew when it was 'go time' where we'd be in sync and do well in what we had to achieve for the day" she said
Magrietha believes that she brought forth her writing skills, punctuality, intuitiveness, persistence, determination and passion.
"I believe I radiated a positive aura with my high pitched "Good morning" to my colleagues when they walked through the office door and my endless "you are welcome" she said.
Although she identifies herself to be an introvert, she asserts that the internship has encouraged her to break out of her shell and cultivate a strong social media presence. Her  challenge was adapting to the people around her, but she conformed to them easily.
"I always feel the need  to prove myself, because all my life I had to do exactly that. This however is a redeeming feature because it brews the need to deliver my utmost best and alter myself to any situation which contributes positively  to the way I carry out my tasks" she said.
Amidst COVID-19, Magrietha ensured that she gave her optimum performance.
"I feel productivity doesn't happen by accident. Accomplishing all the things I need and want to do requires forethought and planning, along with a continuous supply of motivation and focus" she said.
To keep her grounded she delves into  a lot of soul searching and meditating.
"I grasped that the UN is mostly cored around partnerships. These partnerships are proving to work towards vision 2030" she said.
She continues to state that she learned that the United Nations has performed numerous humanitarians, environmental and peace-keeping undertakings all over the world and that we are responsible for each other's welfare, and without an ounce of solidarity, no society can be truly stable.
Magrietha asserts that her mother and sister are her role models amongst many other phenomenal women.
"My mom didn't only give life to me,  but she gave me a backbone and wings to soar to destinations that will grow me". Driven by her unwavering faith and personal mantra of "If it's meant for you, it will be yours", she asserts that these words remind her of who she is, where she is coming from and where she is headed to.
Her future endeavors include finding a job in the Communications and Public information  field while simultaneously applying to further her studies .
"I think it's best I invest in myself and build a strong portfolio while I have the energy to do that" she declared.
Magrietha hopes for  the organisation to work on a budget for their future interns in order for the UN to align with SDG 8: Decent  work and Economic growth. Additionally,  she  hopes the UN works immensely to establish stronger relations inclusive of everyone because the end goal is to leave no one behind.
"My advice to future interns and the youth  is to be proactive with their time. Make the most of  opportunities, network through constructive intercessions and trust yourself and your ability to learn and adapt to new settings without feeling entitled" she said.
Many may beg to differ on the idea of starting a career with an Internship, but these opportunities are small strides that build solid foundations to lifelong connections, experiences and skills that prove to be beneficial.
UN entities involved in this initiative