UN SDG Book Club Interview Series: Q&A with author Christopher Okemwa
Okemwa's 'Sabina the Rain Girl', was selected for the UN SDG 2 Zero Hunger reading list and is fast becoming a popular novella among young people in Africa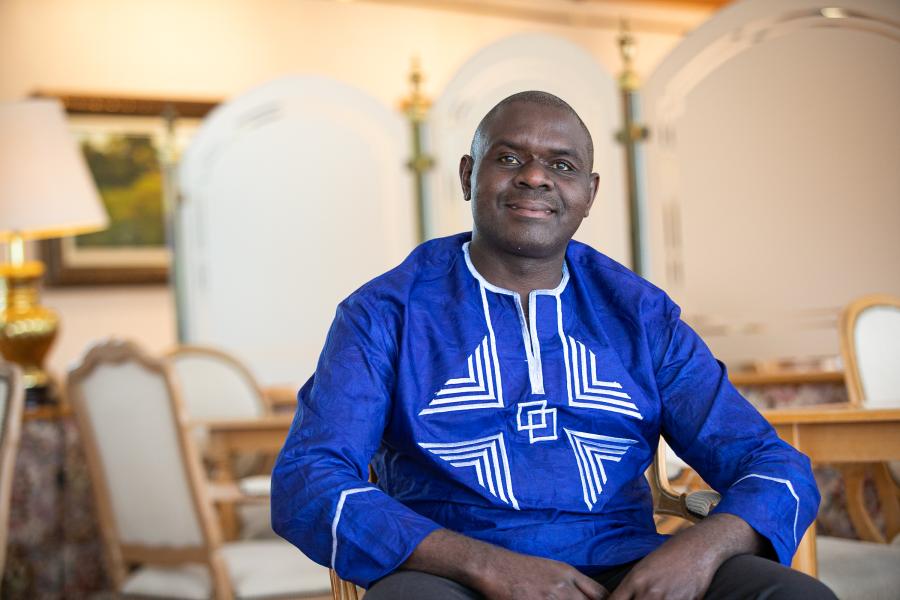 Photo | Christopher Okemwa
Christopher Okemwa is an author and editor of several literary works in Africa and beyond. He self-published his first book in 2004 and in 2015, his novella, Sabina and the Mystery of the Ogre, won the Canadian Burt Award for African Literature. Its sequel, Sabina the Rain Girl, was selected for the UN Sustainable Development Goals (SDG) Zero Hunger reading list, is fast becoming a popular novella among young people in Africa.
Okemwa has written eight books of poetry which have been translated into 15 different languages including Armenian, Chinese, Greek, Norwegian, Finnish, Hungarian, Arabic, Polish, Chinese, Russian, Spanish, and Serbian. He has translated four literary works of international poets from English to Swahili.
The UN SDG Book Club African Chapter sat down with Okemwa to speak on his beginnings as a writer, the importance of his Abagusii heritage and his novella, Sabina and the Rain Girl.
How long have you been writing and creating images for children's books? 
I have been writing since the age of 15. My English teacher came to class one day and called me out. She was concerned whether I was the one who had written my composition or whether someone else did it. She was amazed when I answered in the affirmative. She praised me and assured me that I was going to be a writer.
What inspired you to take up the challenge of submitting to the African SDG Book club? To have people know and read my works.
The main focus of the SDG Book Club is to inform and educate the children about the principles and themes of the UN sustainable development goals. Can you briefly describe how you were able to create a fusion of entertainment, education, and information?
I taught in Standard One as a primary school teacher for close to ten years. During that time, I created stories, skits and songs for my pupils. It is from that exposure that I acquired the art of story-telling for children. I am now able to derive materials and skills from my past experience. The entertainment, education and materials for my novels come naturally to me because of that lower primary school teaching experience.
How do you carry out research for your book?
I first gather sufficient facts around my subject. I will also talk to people to get insight and more information. I relate my characters to the information and facts that I have gathered. I create my setting and storyline alongside the information and facts I have been given.  
What has it been like being a writer?
It is not easy to be a writer. Sometimes you experience writer's block and you brood for days, weeks and months without inspiration to write. When the muse visits, you have to seek time for inwardness and find a conducive atmosphere in which to write. With family at home and students waiting for you on campus, those moments of meditation are elusive.
What was your dream job when you were younger? 
From a young age, I used to love words. I started writing a novel while I was in Form One. My former classmates say that I carried a huge novel around all the time. Poems and stories I found in novels amazed and enthralled me. I knew I was going to be a writer or a poet or a playwright or something.
What do you like to do when you are not writing/ drawing images?
When I am not writing, I teach drama and poetry at university level. I also nurture young up-coming poets, journalists, novelists, actors and actresses, etc.
Describe how you were able to build the main character of the story? 
To create a story an author has to balance fiction and reality. I formed the character from the many campaigns I have run for the promotion of the girl-child in the Abagusii community where I come from. I also sourced materials from the stories I used to hear when growing up about amanani (ogres) and the far-away land in which they lived. Combining the two aspects helped me build the main character, Sabina.
Tell us more about Sabina.
Sabina is brave and determined to succeed on her mission. She is also depicted as intelligent, she is able to dodge people and escape their bad intentions. When she returns to her community with the tail of an ogre, rain falls again in the land that had been facing drought, suffering and deaths. She becomes a heroine, a celebrity.
What was the inspiration for the story?
My campaign for the support of the girl-child in my community. I have been yearning to write a story in which the girl-child is seen as a heroine, at least for once: a story in which a girl-child performs acts of valor only expected from a boy or a man. We have many heroes, but too few heroines in real life and in fiction. This came as a good opportunity to create a heroine.
What advice would you give to young readers across the continent? 
Young readers can be heroes and heroines in their community, in their country and in the world, just as Sabina is in her community. They can perform deeds of valor and save their own communities. They can come out on top in the world. With determination they can achieve; they can conquer; they can rule the world. They can be celebrated just as Sabina is celebrated in my story.
Okemwa is the editor of Musings During a Time of Pandemic: A World Anthology of Poems on COVID-19, I Can't Breathe: A Poetic Anthology of Social Justice, and The Griots of Ubuntu: An Anthology of Contemporary Poetry from Africa. He is the author of ten folktales of the Abagusii people of Kenya, three children's storybooks, one play, one collection of short stories, two novels and four oral literature textbooks. He is also a literature lecturer at Kisii University, Kenya, and the founder and current director of Kistrech International Poetry Festival in Kenya. He has a PhD in performance poetry from Moi University, Kenya.
This story was written by Zion Rufus for Borders Literature for All Nations, one of the founding members of the SDG Book Club African Chapter.
UN entities involved in this initiative
UNIC
United Nations Information Centre